Dear young scientist,

the JungChemikerInnenForum (JCF) local section Berlin and Junge WirtschaftschemikerInnen (JuWiChem) in cooperation with the German Startups Association invite you to the 8th Berliner Chemie Symposium (BCS) and 4th Chemie in Praxis (ChiP) taking place from September 26th to 27th 2019 at the Humboldt Universität zu Berlin (HU), Germany.
The BCS will be held on Thursday, September 26th 2019 and the ChiP on the following day, Friday, September 27th 2019. Both events will take place at the Erwin-Schrödinger Zentrum in Adlershof, Berlin (see Venue for details).
Registration to both events will be opened until September 13th 2019. You will be given the chance to choose whether you want to attend both events or just one of them. The conference fee for attending both events is 20 € while attending only one of them is 15 €.
To keep you up-to-date, we will constantly supply information to this website.

See you in Berlin,

Your JCF Berlin and JuWiChem
Berliner Chemie Symposium (BCS)
The Berliner Chemie Symposium (BCS) is a well-established event for young chemists, in particular undergraduate and PhD students of chemistry and related subjects. The symposium will give you the opportunity to strengthen presentation skills (poster or talk contribution), have fruitful discussions about your research and meet as well as connect with fellow young researches. The scientific contributions will mainly be given in English. For further details take a look at the Program and links to the right or feel free to contact us.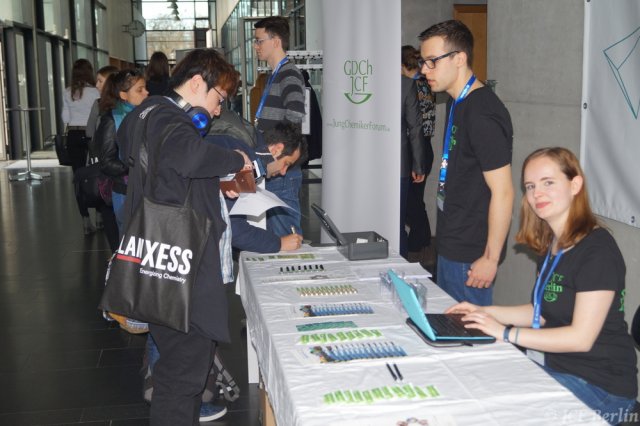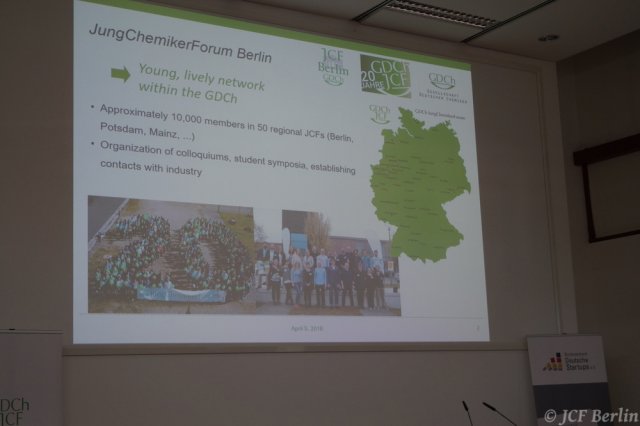 Chemie in Praxis (ChiP)
Welche Karriere passt zu dir?
Das JungChemikerInnenForum Berlin (JCF Berlin) und die Jungen WirtschaftschemikerInnen (JuWiChem) der Gesellschaft Deutscher Chemiker (GDCh) sowie der Bundesverband Deutsche Startups laden zur 4. ChiP – Chemie in Praxis zum Thema "Welche Karriere passt zu dir?" nach Berlin ein.
Im Rahmen der 4. ChiP – Chemie in Praxis 2019 wollen wir gemeinsam die neue Karrierechancen in der Chemie aufzeigen. Spannende Vortragsgäste geben detaillierte Einblicke und zeigen, wie divers Karrierewege in der Chemie sein können.